Dino+Pony Small Business Grant Recipient
We are super excited to announce that Dino+Pony is a recipient of Spoonflower's Fall 2021 Small Business Grant. Check us out in Spoonflower's article here.
Mix+Match
Everything at Dino+Pony is Mix+Match, for ease, simplicity, & ultimate cuteness! Making it easier for mom & dad to put together outfits, getting more use out of fewer pieces in your closet.
take a peak at
The Logo Sweatshirts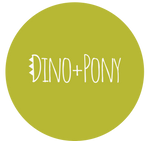 Handmade in the USA
All pieces are handmade by the founder & creator of Dino+Pony in Chatham, NJ. That makes each & every piece of clothing you buy specially made for your little babe.